Interview Tom Naumann (Primal Fear)
11.01.2016 12:47
First thanks for the interview
Right now we are about to release a new album called Primal Fear "Rulebreaker" How was the recording and composition of the album?
The recording went very smooth. We recorded the drums in Denmark, the guitars in Sweden and Germany, the bass and the vocals in Germany. We were all well prepared for the recording so it went quick and we had a lot of fun.
What we can expect from this new album Primal Fear?
You can expect what Primal Fear stands for. German Heavy Metal !!! Pounding Drums and Bass, screaming guitars with blistering guitar leads and on top of that we have the sensational voice of Ralf.
On February 5, you begin the tour to promote the album, just in my city Barcelona, what can we expect from this new tour of Primal Fear?
You can expect a mixture of old songs throughout the period of Primal Fear and a lot of new songs from the upcoming album. It will be a cool setlist with the fave songs of Primal Fear and headcrushing new stuff.
Primal Fear Now, you are a band with three guitarists in front How was the idea of so many guitarists to live?
The thing is that Magnus (Karlsson) don`t have the time to tour so much. So I was asked if I could do all the touring duties for the latest album (Delivering The Black).After the last show I was asked to rejoin as a fulltime member. So we will have three guitar players on the album but live on stage you will see Alexander Beyrodt and Tom Naumann shredding the Gnis.
You carry 2 large opening bands Brainstorm and Striker, bands with impressive direct, How did you bring these bands to open your shows?
We know the Brainstorm guys for a long time and we already did a tour together some years ago. We aregood friends and we will have a lot of fun together.I didn`t know Strikler, but I saw some vids on the net and I like them. Good Metal music. I think this package will bring some good music on the stages of Europe.
Primal Fear came an explosion of bands in the mid-90 'dubbed "German Metal", interestingly many of these bands no longer exist, but here follows Primal Fear What is the secret?
First of all Primal Fear has a huge following. We have fans worldwide and we play worldwide. That is a important part of the whole Primal Fear history. We also are good friends, we hang out in our private life, have the same interests and even with the member not longer in the band we still do have a good relationship.
Primal Fear is a band that has a lot to play for my country (Spain), You like to play here, that you think the Spanish public?
Barcelona is one of my favorite cities in Europe. Amazing place with flair and amazing people. Everytime we are on the road we really enjoy staying Spain and especially in Barcelona. We also love the spanish fans the country. Spanish fans are very loyal and the girls are beautiful J)))))
In the past since 2015, you played on a Spanish festival Rock Fest in Barcelona Will we again to Primal Fear in Spanish festival in 2016?
Rock Fest Barcelona was a blast. We had a great time there, met good friends and amazing bands. There are talks to return to the Rock Fest but I am not sure if this will happen in 2016.
In April you will embark on a US tour, how is the current Heavy Metal scene there?
We are really looking forward to rock the stages in April and May throughout the US and Canada. The last time we did US/Canada was a very cool trip and now we will play bigger venues and stages. I can not tell you exactly how the Metal scene does look over there, because we do not live there, but when we play there we have some great fans over there with a lot of passion and a heart full of metal.
Your first single "The End Is Near" is a powerful song of pure Heavy Metal, what is the theme that you like the new album?
I like "The end is near". Powerful song with a great riff and amazing vocal performance. Another favorite song is Angels of mercy. Looking forward to play this songs live. We will play a couple of new songs from the upcoming album. So it will be very difficult to choose the songs that we will play live because there are so many good songs on the album.
Video "The End Is Near " : www.youtube.com/watch?v=MLRjJQCqCeo
To me some of the issues that I really liked is the opening track "Angels of Mercy" and above all one of the greatest compositions ever made Primal Fear "We Walk Without Fear", a topic of more than 11 minute, how was it to take such a long song with many changes of pace?
"We walk without fear" is a monster track. Epic Metal with a lot of different feelings, tempo changes and a great performance from the band.Sometimes if all comes together you are in the right mood and get the ideas and it will just flow out of your fingers.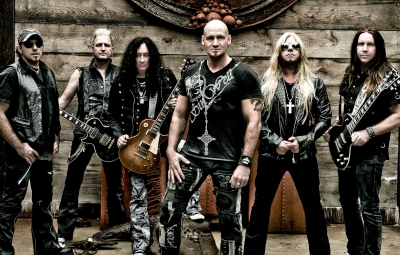 What are your biggest influences, guitarists, bands ...?
Oh there are so many bands and guitar players that influenced my playing. Judas Priest was a huge influence because of them I started to play guitar.I listen to different kinds of bands and music so it`s hard to pick a special band.
As guitar players I would name Brad Gillis, Paul Gilbert, Steve Lukather, Neal Schon, John Sykes
Take good, thank you very much for the interview, would you like to add anything?
Thanks for supporting Primal Fear and Metal. Hope you will like and buy our new album. See you on tour. Be excellent to each other and party on